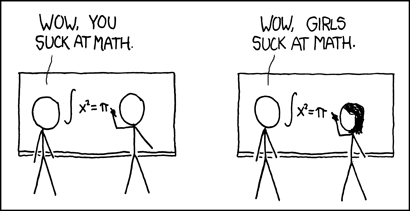 I've heard no shortage of stereotypes in my life.
I've heard stereotypes about Men, Women, Whites, Blacks, Mexicans, Indians, Chinese, Arabs, Italians, French, Israelis, Canadians, Brits, Americans, Engineers, Lawyers, Bankers, Cops and even Postal workers.
You name it, I've heard it.
Every now and then, I come across a positive stereotype. "Japanese people have so much honor." "Women have so much empathy." But for the most part, I hear far more negative stereotypes than I do positive.
Whenever I hear someone espousing a particularly nasty stereotype and I feel the need to speak up, I invariably hear the exact same justification.
"But it's true!"
"There's a kernel of truth behind every generalization."
The less competent ones will proclaim this truth based solely on their anecdotal experiences. "I've personally been robbed by a _______!"
The more savvy ones will provide an entire compendium of statistics and scientific studies to back up what they are saying.
"Mass shooters and pedophiles are far more likely to be _____."
"______ are five times more likely to commit crime."
"Surveys have shown that ______ hold far more more bigoted beliefs than others."
That last one is a personal favorite of mine. Stereotyping an entire demographic as being bigoted. Oh the irony.
Sometimes the evidence they cite can be easily dismantled and shown to be false. But other times, they are actually accurate. It turns out that statistical differences can and sometimes do exist between various demographics.
Where such statistical differences do exist, is it okay to stereotype?
I don't think so.
The problem with stereotypes isn't that they are incorrect. The problem is that they are insufficient.
Stereotypes traffic in averages, but they ignore all variance. And that variance is what makes us individuals. It is what makes us human. Casting aside that variance, strips us of our humanity.
Statistical differences between demographics, even if they do exist, are almost never relevant to our daily lives. When deciding who to hire, befriend or vote for, there are far more relevant individual attributes that trump any and all aggregate statistical differences. For example, individual accomplishments credentials and references, are far better predictors of job success, compared to race gender or nationality.
Stereotypes give us the illusion of knowledge, when in truth, we know nothing about the individuals behind the stereotype. Good or bad, selfish or selfless, smart or dumb, industrious or lazy – these traits can all be found in every single group. When we dismiss an entire demographic based on their average, we are tarring and feathering countless innocent, good people, for the crime of their birth circumstances.
Do we really want to live in a world where all men are assumed to be violent, and all women are assumed to be hysterical? Where Arabs are terrorists and Whites are mass-shooters? Where Mexicans are lazy, Jews are greedy and Asians are lacking in personality? Where southerners are racist and northerners are Godless? Where athletes are dumb, lawyers are psychopaths and engineers are socially inept?
Or would we rather live in a world where each of us is judged on our own merits. In a society that treats us as individuals, and gives us a fair shot before casting judgement.
The problem with stereotypes isn't that they are untrue, but that they are incomplete.